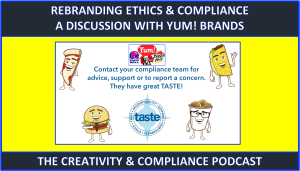 In this episode of Creativity and Compliance, Tom and Ronnie welcome David Mindell, VP Global Compliance at Yum! Brands to discuss how Yum! changed the face of the ethics and compliance program. 
Recognizing the impact of E&C's reputation and the impact that it can have…both positive and negative. 

The importance of giving the program a recognizable, positive identity. 

Creating a recognizable brand for the program helps raise its profile.

Employees take the program more seriously if they notice that you are taking it more seriously, i.e. investing in making the training and communications more interesting, empathetic and helpful.
---
What is Yum! Brands new ethics & compliance brand called?
TASTE:
Trust Accountability, Support Togetherness, Ethics
Have Good TASTE!
Click on the Logo above to hear the TASTE Jingle! 
---
New LOGO. New Jingle. New Tagline…Have Good TASTE!

Communication & Awareness – A series of 60-second commercials promoting various policies, rolled out monthly

Training – A series of new 10-minute e-learning courses built around the TASTE TV Network

TASTERS CHOICE – A game show focusing on corruption and bribery

TRAVELING WITH TASTE – A travel log show focusing on travel and expense policies

THESE ARE THE DAYS OF OUR FRIES – A telanovela show focusing on conflicts of interest

Communication & Awareness – giving out the GOOD TASTE Recognition award

Successes & Lessons Learned are shared
To see examples from this campaign as well as other campaigns, please contact L&E at [email protected] or click here – Request Information