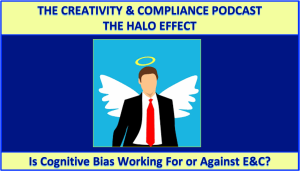 In this episode of Creativity and Compliance, Tom and Ronnie discuss ethics and compliance and the Halo Effect – how cognitive bias impacts the E&C program.
We all have implicit biases. There is positive bias – The Halo Effect. There is negative bias – The Horn Effect.
Employees historically have a negative implicit bias associated with Ethics & Compliance, which impacts your program. Reputation does matter.
People do not speak up and ask for help when they are bored, annoyed or afraid. The tendency is to bury their problems.
Mixing in entertaining training and communications not only helps with stickiness of learning, it provides a residual Halo Effect.
The Halo Effect is not just a residual benefit…it is the primary benefit. It's more important for employees to feel supported than to have memorized policies.
Maya Angelou once said, "People don't remember what you said, but they'll remember how you made them feel."
Mixing in creative, entertaining training and communications that are entertaining, interesting, provocative, empathetic is not a nice to have…it's critical to establishing that positive ethics and compliance PR that is necessary to get implicit bias working for you and not against you.