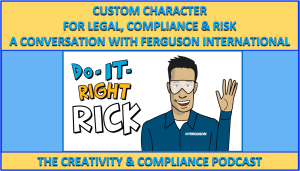 In this episode of Creativity and Compliance, Tom and Ronnie welcome Katherine Hill, Compliance Manager at Ferguson International to discuss the strategy, development and deployment of their custom compliance character, Do It Right Rick!
Recognizing the importance of reputation and how that can impact the effectiveness of the compliance program.
Strategy  – giving the program a recognizable, positive identity.
Goal – Raise the profile of Legal, Compliance & Risk in a positive way.
Zeroing in on a customized character

Rick is an HGTV-style spokesperson and personality
Decision for Animation
Design that lives in a world similar to employees
Character that speaks to employees peer-to-peer vs. top down.

Deployment Strategies

Quarterly Do-It-Right Rick videos tied to risk topics in focus that quarter
Do-It-Right Rick images are attached to other trainings, policies and resources as a thematic connector

Value of this approach. Cost/Benefit discussion
Success & lessons learned.
To see examples from this campaign as well as other custom characters and campaigns, please contact L&E at [email protected] or click here – Request Information