Elevating the Ethics & Compliance Brand
A Conversation With Yum!
---
L&E's Ronnie Feldman and David Mindell from Yum! Brands Global Compliance department were guests on the Ethicsverse webinar hosted by Ethico's Nick Gallo, talking about strategies and techniques to reinvent and refresh the Ethics & Compliance brand.
---
Are you concerned that employees view you as the corporate cops, the "office of No" or just another annoying thing they have to do?
In this free webinar, we discussed how Yum's Global Compliance department flexed their creative muscles to reinvent their reputation so that it matches the helpful, welcoming, supportive resource that they are.
New Name: It's TASTE: Trust, Accountability, Support, Togetherness, Ethics
New Logo
New Tagline: Have Good TASTE!
Creative Characters
60-Second Policy Commercials
Fun, playful, positive courses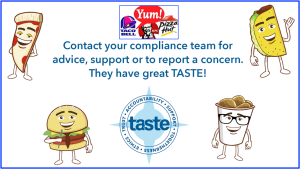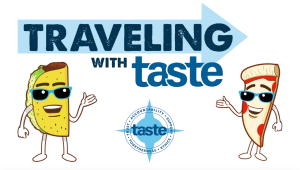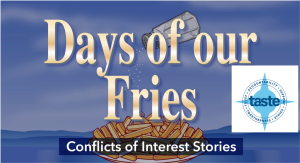 Ethics & Compliance is all about influence and your brand matters.
Watch the webinar to see examples and hear the discussion around creative strategies and techniques.
Or contact us at [email protected] and we'll walk you through the project and discuss ways to apply these techniques to your company and culture.
---
Ronnie Feldman, President & Creative Director, Learnings & Entertainments